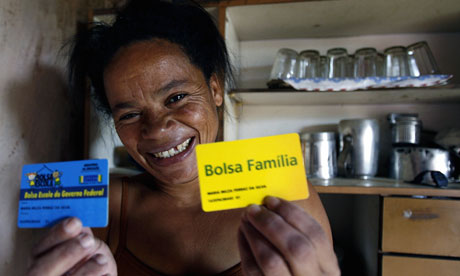 Hey kids, remember when I reviewed Just Give Money to the Poor, a book that analyzes the different cash transfer programs in the Global South, their modalities, consequences, limitations, and more importantly, their successes. These programs almost completely obliterate the stereotypes conservatives have regarding the poor and their supposed irresponsibility and laziness.
"Conditional cash payments to poor families with children in Argentina "have had a very positive impact", says an enthusiastic Graciela Dulcich, the principal of a primary school in a poor neighbourhood on the outskirts of Buenos Aires.

"Once the kids are enrolled in school, the responsibility is ours, and if they miss class for more than three days, we have to move heaven and earth to find out what's going on, and to make them start coming again," she explained.

For the past 35 years, Dulcich has worked in public schools in low-income neighbourhoods on the outskirts of the capital, such as school number 34, which she currently heads in San Isidro, a Buenos Aires district marked by strong social contrasts.

In late 2009, the centre-left government of Cristina Fernández introduced the Universal Child Allowance (AUH), which now grants 220 pesos ($53) a month for each child under 18, up to a maximum of five, to parents who are unemployed or work in the informal sector of the economy.

In the case of disabled children, the monthly allowance is four times that. The AUH was later expanded to the children of domestics, pregnant women, and low-earning members of co-operatives.

The cash transfer, which is now received by the families of more than 3.6 million children and adolescents, is conditional on school attendance and keeping up to date on vaccines and health checkups.

Independent studies show that the AUH has led to a drastic – between 55% and 70% – reduction in extreme poverty, as well as a less significant drop in the levels of poverty and inequality.

But the impact has not only been felt by the families who have been helped out of poverty thanks to the monthly cash payment that tops off the income they are able to make by working. The effects have also been felt in schools, especially at the primary level, where the AUH has led to a big jump in enrolment.

And, according to Dulcich, "once the school got the kids to come in, it won them back – in other words, even if they skip school one week out of three, they are in the system, and are followed up on.

"We do all sorts of things to get them to attend class," from cheering and applauding every day for the ones who show up, to phoning or even visiting the homes of the children who miss class, the principal said.

She explained that the education ministry requires monthly reports on attendance. "If I report to the ministry that there are kids who have dropped out, or that many have repeated the year, they reprimand me and ask for detailed reports. This is the pressure we face, which is why everything possible must be done to make sure the kids come to class," Dulcich said.

Primary schools can also refer children to psychologists or social workers, and offer the families guidance on medical or dental questions, as well as advice on different problems.

With regard to the families of children who habitually miss class, and "who do not have a culture of regular school attendance", a bigger effort is made in terms of following up on their situation, Dulcich explained. Many of these families make a living by sorting garbage on the street for sellable recyclable materials like paper and cardboard – they are known as "cartoneros" in Argentina – work that the children often do alongside their parents.

"But for the mothers who never give up, the ones who ask us if they can give the address and phone number of the school as a reference when they go to look for a job, the AUH is highly appreciated," she said."
This perfectly illustrates the importance of not just giving money but also not overburden with conditionality (like making mothers attend tons of workshop) and focus on one or two very specific conditions and help parents meet those with adapted services. This is the way poor families can escape the poverty trap: if having a child in school brings income to the parents, then that child no longer has to beg on the streets or sort garbage with her parents. It embeds education and healthcare into family subcultures. It makes life less uncertain, precarious and risky for these people and therefore helps them make longer-term plans rather than just survive on a day by day basis.
And no, this is not a magic bullet against poverty. It should be one program among others, one that has proven its success though. And yes, maybe a few will take advantage of it. But that, in itself, does not invalidate the value of a particular public policy. But let's not forget that Western countries, especially in Western Europe, have massively use cash transfer programs in building up their middle and working classes, with success. On top of it: these programs are not that costly, especially considering the social benefits.