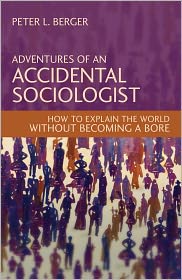 Well, it is not often that I dislike a book as much as I did Peter Berger's Adventures of An Accidental Sociologist: How to Explain the World Without Becoming a Bore.
Before I even get into the book per se, I should mention I didn't know much about Peter Berger himself beyond reading the modern classic The Social Construction of Reality, with Thomas Luckmann when I was in college (it was mandatory reading, quite good too). But beyond that, I never read anything else, mostly because of his focus on religion (a topic which by and large bores the stuffing out of me). I tried reading his Invitation to Sociology (because I had read the bit on debunking) but got bored quickly.
This means that I was not prepared for what turned out to be the intellectual autobiography of a right-wing privileged old white man (a characterization he would probably deny since he thinks the whole class / race / gender thing is a really bad thing in sociology) who has been so, so oppressed by these awful lefties and feminists. Hanging out at the Texas ranch of the main organizers of Iran-Contra though, that didn't bother him too much.
It is quite amazing to read someone who seemed to have had an easy academic career (at least, from what he tells, but things were certainly more relaxed when he started) engage in some non-stop whining about how the lefties are ruining sociology, hanging out with some hard-core right-wingers, and then, adopt a holier-than-thou "reasonable centrist" attitude all the while dismissing anyone outside of his circle of privileged colleagues with concerns about the less privileged. No one seems less aware of privilege, power and conflict than he is.
Let me walk you through some morceaux choisis. At first, the book was quite interesting, going over the early formation of a sociologist through French literature and Weber. And a little detour through debunking:
"Sociology is akin to comedy because it debunks the social fictions. By the same token, it is potentially liberating. It shows up the 'bad faith' by which individuals hide behind their roles and forces them to confront the reality of their own freedom. In the same process sociology must debunk the religious legitimations of the social fictions.

(…)

Sociology derives its moral justification of its debunking of the fictions that serve as alibis for oppression and cruelty. (…) Sociology liberates by facilitating a standing outside one's social roles (literally, an "ecstasy" – ekstasis) and thereby a realization of one's freedom. (…) Sociology suggests that we are puppets of society, but unlike puppets we can look up and discover the strings to which we are attached, and this discovery is a first step toward freedom." (74-6)
So far so good. I started taking issue with Berger in his assessment of modernity. He still considers that we are living in modern times. Apparently the whole post-modern theoretical developments passed him by. His big idea is that modernity did not lead to secularization but to pluralism (multiplicity of religions and spiritual approaches). Pluralism undermines established religion but offers individuals multiple choices as to how spiritual they wish to be and in what kind of religious organizations. Basically, what he described is Lyotard's death of the grand narratives and Bauman / Beck's individualization thesis which mark the end of modernity and the advent of post-modernity or any other such formulation, such as liquid society. To hold on to the modernity frame leads to a lot of category mistakes (including the one regarding, for Berger and his wife – who obviously has never read Stephanie Coontz – that the bourgeois nuclear family is the most functional, something blatantly untrue in the individualized and increasingly mobile society).
The second main issue I had was Berger's declaration that capitalism is great and good and works everywhere while socialism is an utter failure. While Berger likes to position himself as the reasonable centrist in a world of ideological extremes (although right-wing ideologies don't much him anywhere near as much as left-wing ideologies, apparently), he does see the world in black and white. For instance, in his ringing endorsement of capitalism over socialism, there is no considerations of the successful social democracies of Scandinavia nor is there any examination of capitalism in totalitarian states (for instance, the Latin and South American dictatorships of the 70s and 80s, fully supported by the US).
Focused as he is on culture (at the expenses of stratification of any kind), his examination of the development model of the Asian tigers revolves around the mushy neo-confucianism without a shred of examination of the role of the developmental state that Manuel Castells has so thoroughly examined. Nor does he take into account the impact of structural adjustment programs imposed on countries of the Global South (an expression he finds confusing) and that led to the debt crisis and the lost decade of the 80s. For someone who claimed to be concerned with the "calculus of pain" (how much pain should people endure in the name of development, and that pain is taken to be only economic, never political, so, capitalism in totalitarian environments is ok), that's a pretty big shortcoming.
The point at which Berger leaves sociological territory, in the book, to get into the purely political is when he recounts the 60s. As he states, he was in favor of the Civil Rights, was repelled by racism but, basically, the DFHs ruined the whole thing with their radicalism. As a result, he became conservative, started hanging out with such non-ideological people as Norman Podhoretz and Midge Decter and writing for Commentary. Berger really has it in for the feminists, depicted as oppressive and doctrinaire and impervious to reason.
A great deal of his discontent with feminists and other non-right-wing people is depicted in a chapter titled "Politically Incorrect Excursions". In my book, everyone who invokes "political correctness" loses all credibility. Those are usually privileged individuals who disliked having their privileges questioned and that is exactly the case here. And, he pulls one nice little Dawkins as well against feminists, at the same time showing his privilege and his ignorance of feminism:
"Another matter, though, is the continuing definition of women as victims – and that in the Western societies which have accorded to women a degree of privilege unequalled in human history and indeed unequalled in any other contemporary society." (158)
Well, women were not "accorded" certain rights. They fought for them, won some battles and lost others. And we still live in a patriarchal system. But the whole idea of a privileged white man telling women to STFU because they have it so good in Western societies kinda proves the point of why we need feminism. This sense of privilege (which is never examines and never questioned) is especially displayed in Berger preferred methods: coffee house sociology (hanging out with like-minded academics and coming up with ideas within that small limited circles – Berger keeps mentioning the same people over and over again) and sociological tourism (go hang out with other privileged people in other societies, then, write a book).
Among other politically incorrect excursions? The aforementioned retreat at the Texas ranch of Iran-Contra perpetrators while they were hashing out the whole murderous enterprise (but he didn't take part because he was more focused on Jamaica. Still, the very fact that he was invited for the occasion is revealing), helping the tobacco industry in fighting back against regulations. And advocating an incremental approach to the dismantlement of apartheid. In all of these cases. Berger relishes in his over version of "if I'm pissing off both sides, then, I'm doing the right thing":
"A morally sensitive social scientist will, I think, instinctively move toward middle positions (middle between radical change and stubborn preservation) on most issues." (177)
No, a morally sensitive sociologist would move toward the position of greater social justice. I wonder what Berger would have made of the younger Nelson Mandela and the ANC of the 1960s.
as the book goes on, it feels like Berger is lowering his guard and getting more and more ideological himself. Take his description of BU President John Silber:
"Some on the faculty perceived him as a right-winger, which was certainly a misperception. He was a lifelong Democrat, very much in the pre-1960s tradition of Democratic Party liberalism. But he was also an American patriot, staunchly anti-communist, opposed to abortion on philosophical grounds, and contemptuous of fashionable political correctness." (183)
Emphasis mine. So, (1) to be a Democrat is to not be a patriot, (2) let me remind everybody that pre-1960s Democrats tended to be pro-segregation, and (3) for Berger, something based on "philosophical grounds" (which is what reasonable men do) is much better than on ideological grounds (which is what evil lefties do).
And, when dealing with conflict, Berger certainly falls into the category of "both sides are doing it", completely ignoring the power imbalances that may be involved. For instance, regarding his involvement in South Africa, he describes the late apartheid period as a "time of intense political conflict" as if the parties were equal and equivalent. It was not a time of intense political conflict, but a time of intense political repression marked by systematic torture from a white supremacist regimes.
More than that, he later described Betty Friedan's Feminist Mystique as a"feminist assault on the conventional family" (discussing his wife's book on family). He also wrongfully blames Roe v. Wade for the emergence of the religious right (something many times debunked) as well as Jimmy Carter for organizing a conference on families rather than family. And here is how he describes that conflict:
"On one side the pro-family and anti-abortion ("pro-life") movements merged, while on the other side the pro-abortion ("pro-choice") movement allied itself with other socially progressive causes. Probably more by accident than by deliberate decisions, the social conservatives became an important constituency of the Republican Party, while the social progressives assumed a dominant role in the Democratic Party. Abortion became a doctrinaire litmus test on both sides." (200)
How clueless can one be. Seriously, "pro-family" versus "pro-abortion". And let us not mention the Southern strategy. Oh, and he and his wife are against gay marriage because it would undermine the "bourgeois family" (his phrase, not mine) and because children are, in their view because studies show otherwise, better off raised by their biological parents. I'm guessing he's against adoption then.
And for my fellow sociologists, enjoy this little bit:
"In sociology the mantra of  'class, race, gender' had come to dominate work in most areas of the discipline; a diffuse left-liberalism had in many placed hardened into a repressive orthodoxy." (203)
So says the man who has had a very privileged academic career. And not a shred of evidence as to why such a view is wrong. It just does not fit with his privileged-functional, cultural-essentialist perspective, so, it's ideological and repressive.
And to get a sense of his cluelessness, get this,
"I remember a conversation with some black people in South Africa [he usually mentions names everywhere, but not here apparently]. They expressed strong resentment about the continuing privilege of the white minority despite the demise of the apartheid regime. I said that I could understanding their feelings [how nice of him], but [you knew there was a "but" coming and that there is some white-splaining coming] I suggested a mental experiment: Forget the race of these people for a moment [because, you know, in South Africa, race is not really relevant]. Just look at their economic functions, which the country needs and which blacks especially need. Then look at them as an economic asset to be exploited, not for their sake but for yours. My argument failed to convince [no !@#$]." (217)
I wonder why these black people were not convinced by this little bit of white patronizing.
And that last quote, to me, is perfectly revealing of Peter Berger the man and the sociologist.
And because I needed a brain-cleanser after making through that book: