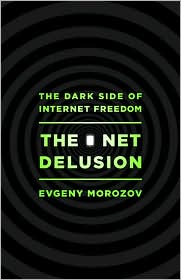 Evgeny Morozov's The Net Delusion: The Dark Side of Internet Freedom is an important book that aims to make us think about networking technologies beyond the simplistic and utopian delusion that the Net = freedom. It is also very compelling, but then, I'm a cyber-crank, so, what do I know. Sarcasm aside, this book is a great read for anyone interested in the intersections between networking technologies and ideologies as well as political power. And Morozov provides quite a bit of historical context to let us know that we have been there before, that is, proclaiming a bit too quickly the emancipatory power of a new communication technology: faxes in the days of the Cold War, Twitter now.
His book is a call to not make the same mistake and exercise a bit of nuance and critical thinking regarding the new ICT tools. Part of the problem, according to Morozov is that we have not yet learn to "think" about these tools. The neoconservative view of promoting democracy (kinda) via the Internet (like Voice of America used to do) may be discredited but there is no compelling alternative to account for the multiple layers of interaction between governments, social movements, social institutions and their uses of networking technologies.
The other major problem is that Western thinkers are stuck in a Cold War mode of thinking (all quotes from Kindle edition):
"Lost in their own strategizing, Western leaders are pining for something that has guaranteed effectiveness. Many of them look back to the most impressive and most unambiguous triumph of democracy in the last few decades: the peaceful dissolution of the Soviet Union. Not surprisingly—and who can blame them for seeking to bolster their own self-confidence?—they tend to exaggerate their own role in precipitating its demise. As a result, many of the Western strategies tried back then, like smuggling in photocopiers and fax machines, facilitating the flow of samizdat, supporting radio broadcasts by Radio Free Europe and the Voice of America, are given much more credit than they deserve.

Such belated Cold War triumphalism results in an egregious logical fallacy. Since the Soviet Union eventually fell, those strategies are presumed to have been extremely effective—in fact, crucial to the whole endeavor. The implications of such a view for the future of democracy promotion are tremendous, for they suggest that large doses of information and communications technology are lethal to the most repressive of regimes.

Much of the present excitement about the Internet, particularly the high hopes that are pinned on it in terms of opening up closed societies, stems from such selective and, at times, incorrect readings of history, rewritten to glorify the genius of Ronald Reagan and minimize the role of structural conditions and the inherent contradictions of the Soviet system.

It's for these chiefly historical reasons that the Internet excites so many seasoned and sophisticated decision makers who should really know better." (Loc. 141 – 149)
And that is precisely the ideological positioning that Morozov beats back throughout the book. Just like Cold Warriors thought the free flow of goods would automatically lead to democracy, they think the same about the free flow of information. For them, the revolution (of the market-friendly kind) will be blogged and tweetered and tumblred (or choose your favorite platform).
This belief Morozov calls the Google Doctrine:
"The Google Doctrine—the enthusiastic belief in the liberating power of technology accompanied by the irresistible urge to enlist Silicon Valley start-ups in the global fight for freedom—is of growing appeal to many policymakers." (Loc. 166)
That is, the naive belief that Internet is always on the side of the underdog. Morozov also uses the phrase "cyber-utopianism" to describe the view that the Internet is always and ever a force of good without recognizing that it does have dark sides (such as the ubiquitous surveillance society, whether it comes from the public or the private sector). Morozov reserves its harshest criticism for cyber-utopianism, such as this:
"Cyber-utopians ambitiously set out to build a new and improved United Nations, only to end up with a digital Cirque du Soleil." (Loc 173)
Ouch.
And cyber-utopians both overestimate the capacity of the Internet to promote democracy while at the same time underestimating its capacity to penetrate all aspects of life, for better and for worse. So, for Morozov, we need to be able to overcome cyber-utopianism to think clearly about the role and potential of the Internet.
But cyber-utopianism is not the only approach that leads to thinking badly about the Internet. Morozov also attacks Internet-centrism:
"While cyber-utopianism stipulates what has to be done, Internet-centrism stipulates how it should be done. Internet-centrists like to answer every question about democratic change by first reframing it in terms of the Internet rather than the context in which that change is to occur. They are often completely oblivious to the highly political nature of technology, especially the Internet, and like to come up with strategies that assume that the logic of the Internet, which, in most cases, they are the only ones to perceive, will shape every environment that it penetrates rather than vice-versa." (Loc. 214)
In this sense, The Net Delusion is a very sociological book that places technology (the Internet) in its proper social context and examines how it operates under different social conditions, as used by different kinds of social actors. It takes a somewhat more sociologically deterministic to fight a strong technologically-deterministic approach that has so far prevailed. Why, because Morozov thinks Internet-centrism is dangerous:
"Their [Internet-centrists'] realistic convictions, however, rarely make up for their flawed methodology, which prioritizes the tool over the environment, and, as such, is deaf to the social, cultural, and political subtleties and indeterminacies. Internet-centrism is a highly disorienting drug; it ignores context and entraps policymakers into believing that they have a useful and powerful ally on their side. Pushed to its extreme, it leads to hubris, arrogance, and a false sense of confidence, all bolstered by the dangerous illusion of having established effective command of the Internet. All too often, its practitioners fashion themselves as possessing full mastery of their favorite tool, treating it as a stable and finalized technology, oblivious to the numerous forces that are constantly reshaping the Internet—not all of them for the better. Treating the Internet as a constant, they fail to see their own responsibility in preserving its freedom and reining in the ever-powerful intermediaries, companies like Google and Facebook." (Loc. 221)
And the price of such stance is to ignore how much the Internet has served the powerful very well so far, at the expense of the powerless. At the same time, as Morozov shows, for a brief moment, the Iran Revolution seemed to validate the Internet-centrist view that Twitter was going to liberate Iran and that better information could be obtained from the micro-blogging site than from traditional media. This was where we were going to see the liberating power of technology. Truly, the revolution was twittered. No authoritarian government would be able to resist its power.
And so, from the Western power centers, all that is needed is the proper funding to the right dissident groups. After all, just five days ago, one could read this in the New York Times,
"The Obama administration is leading a global effort to deploy "shadow" Internet and mobile phone systems that dissidents can use to undermine repressive governments that seek to silence them by censoring or shutting down telecommunications networks.

The effort includes secretive projects to create independent cellphone networks inside foreign countries, as well as one operation out of a spy novel in a fifth-floor shop on L Street in Washington, where a group of young entrepreneurs who look as if they could be in a garage band are fitting deceptively innocent-looking hardware into a prototype "Internet in a suitcase."

Financed with a $2 million State Department grant, the suitcase could be secreted across a border and quickly set up to allow wireless communication over a wide area with a link to the global Internet."
Of course, commentators quickly pointed out the irony of this considering the way Wikileaks was treated by the same government, with the helpful assistance of the private sectors, especially ISPs. And, as Morozov notes, Al-Qaeda has also been quite adept at using the Internet, a far cry from an emancipation movement.
And ultimately, as of time of writing, the Iranian regime seems more solidly in place than other authoritarian regimes in the Middle East although the so-called Arab Spring has also led to the same Western pronouncements. Just today, for instance:
"The Arab Spring owed much to the internet and the mobile phone; social networking sites nurtured, co-ordinated and shaped revolutions. But these instruments of modernity also bore witness to revolution's ugly twin: government suppression – tanks sent in against protesters in Banias, Saudi snipers on the rooftops in Bahrain, tear gas in Tahrir Square."
And though there has been recognition that ultimately, revolutions require people taking to the streets and facing state repression, and though the jury is still out as to what will follow the collapse of authoritarian regimes in Tunisia and Egypt, cyber-utopianism and Internet-centrism persist because (1) they involve quasi-religious beliefs, and (2) they make Westerners feel good because, after all, we (the West) created these technologies and look at the good they are doing. And after all, if dictators are censoring the Internet, that means it must be a 100% force for good.
As Morozov notes,
"But refusing to acknowledge the Internet's darker side is like visiting Berkeley, California, cyber-utopian headquarters, and concluding that this is how the rest of America lives as well: diverse, tolerant, sun-drenched, with plenty of organic food and nice wine, and with hordes of lifelong political activists fighting for causes that don't even exist yet. But this is not how the rest of America lives, and this is certainly not how the rest of the world lives." (Loc. 559)
In addition, both cyber-utopianism and Internet-centrism involve a lack of examination of the role of corporations in these technologies, ignoring the fact that invasions of privacy, control of information and forms of authoritarianism can come from corporations as much as governments, if not both.
And at the same time, Western diplomats, commentators and policy-makers may make life more difficult for dissidents when they talk up the emancipatory and revolutionary power of the Internet so much so that dictators become keen on using the technologies themselves for repressive purposes.
Indeed, another misguided cyber-utopian belief is that authoritarian governments around the world, are composed of uncool, unsavvy idiots who sit on their thumbs and are clueless regarding ICTs whereas the cyber-dissidents are the cool kids who will always be able to outsmart them, if only we give them the proper tools. I would argue that such as extremely naive view is plainly exposed in Robert J. Sawyer's Wonder.
But, of course, authoritarian governments have done no such thing. Indeed, they have used the very same technologies to find and neutralize dissidents. As Morozov notes, the Internet can actually strengthen a regime rather than simply, and by default, undermine it. In a variety of social, economic and political contexts, the effects of the Internet are far from simple and straightforward. As Morozov puts it,
"The Internet does matter, but we simply don't know how it matters." (Loc. 711)
Why not? Because a whole lot of people are quite satisfied with a combination of Cold War triumphalism and handy metaphors ("the Great Firewall of China") that give the illusion of full understanding of what is going on. Either way, what is lost in the process is a focus on structural, historical and institutional conditions under which activists, NGOs, civil society actors and governments operate. And because the Internet still relies on a physical infrastructure often controlled by governments, those can still turn it off when they feel threatened (as did happen in Egypt). And after all, it is also naive to think that authoritarian governments have not adapted to a world where information circulates widely.
Indeed, Morozov shows how governments sometimes have no need to exercise heavy-handed censorship on the Internet to stifle dissent: just put a bunch of cat videos on. More seriously, the entertainment component is what has allowed the Russian government to have little need for censorship. The idea that simply giving people access to more information will automatically make them want consumerist democracy and act upon such want is naive as well.
After all,
"Most Americans were exposed to political news not because they wanted to watch it but because there was nothing else to watch. This resulted in citizens who were far better politically informed, much more likely to participate in politics, and far less likely to be partisan than today. The emergence of cable television, however, gave people the choice between consuming political news and anything else—and most viewers, predictably, went for that "anything else" category, which mostly consisted of entertainment." (Loc. 1177)
This is also why East German leaders used to allow their citizens access to West German television: escapism, depoliticization and pacification and, as Morozov notes, greater support for the regime because West German TV programs made life more bearable. Many an authoritarian leaders have figured out that consumerism and Western popular culture more generally have a depoliticizing effect and are willing to capitalize on that. And, of course, global capitalism easily accommodates such combinations of political authoritarianism and neoliberal economic policies.
There is another way in which the Internet may actually undermine the possibilities of dissent:
"The real reason why so many scientists and academics turned to dissent during Soviet times was because they were not allowed to practice the kind of science they wanted to on their own terms. Doing any kind of research in the social sciences was quite difficult even without having to follow the ideological line of the local communist cell; collaborating with foreigners was equally challenging. Lack of proper working conditions forced many academics and intellectuals either to immigrate or to stay home and become dissidents.

The Internet has solved or alleviated many of these problems, and it has proved excellent for research, but not so excellent for bringing smart and highly educated people into the dissident movement. Collaboration is now cheap and instantaneous, academics have access to more papers than they could have dreamed of, travel bans have been lifted, and research budgets have been significantly increased. Not surprisingly, by 2020 Chinese scientists are expected to produce more academic papers than American ones.

(…)

This has happened at the expense of severing their ties to local communities.

(…)

Their connection to politics in their native countries has also been severed; paradoxically, as they have gotten more venues to express their anger and dissent, they have chosen to retract into the nonpolitical." (Loc. 1388 – 99)
So, for Morozov, we need to find more and better ways of making people care so that we don't exchange just videos of cats and celebrity gossips. There is a need to nurture more critical thinking (I would argue that this would require changes in the way academia relates to society, social movements and ICTs as well, but in the current context, more critical thinking will not be happening).
In this sense, Morozov thinks we may be getting aspects of both Aldous Huxley's Brave New World (with the pacification of the masses with cheap entertainment and of George Orwell's 1984 (with the massive surveillance) and not just in authoritarian regimes but in democratic ones as well, and quite a bit of this has come to us courtesy of the Internet which has made surveillance, censorship and propaganda easier. And many of the tools to do so may come from Western corporations, such as Facebook never-ending quest to invade the privacy of its users.
And let us not forget, as the Wikileaks episode has shown us, that censorship might take the form not of government action, but of private entities denying access to content or destroying online communities and it is quite cheap to do as well:
"Before the advent of social media, it took a lot of effort for repressive governments to learn about the people dissidents are associated with. The secret police may have tracked one or two key contacts, but creating a comprehensive list—with names, photos, and contact information—was extremely expensive. In the past, the KGB resorted to torture to learn of connections between activists; today, they simply need to get on Facebook." (Loc. 2678)
And similarly,
"The private sector will surely continue churning out innovations that can benefit secret police everywhere. Without finding ways to block the transfer of such technologies to authoritarian states or, even more important, the kind of limits that should be imposed on such technologies everywhere, the West is indirectly abetting the work of the secret police in China and Iran." (Loc. 2747)
More than that, it is now clear that many of us are quite comfortable providing information that is available to everyone on the Internet. We post photos and videos on Facebook and Twitter, we "tag" people on these photos, we provide location informations and leave all sorts of traces all over the Web or via our mobile phones. Who needs the KGB or that guy in "The Lives of Others".
In addition, as Morozov notes, sociologists have shown that many Facebook users use Causes application and join group more as a Goffmanian device for the presentation of self than actual activism, hence the rise of the slacktivist at the expense of actual advocacy. Mobilizing might have become easier but mobilizing is different from organizing and acting:
"It's not so hard to imagine how any protest movement might be overstretched by the ease of communications. When everyone can send a tweet or a Facebook message, it's safe to assume that they will. That those numerous messages would only increase the communication overload and may slow down everyone who receives them seems to be lost on those touting the virtues of online organizing." (Loc. 3335)
For Morozov, the real danger is this:
"The danger that "slacktivism" poses in the context of authoritarian states is that it may give young people living there the wrong impression that another kind of politics—digital in nature but leading to real-world political change and the one underpinned entirely by virtual campaigns, online petitions, funny Photoshopped political cartoons, and angry tweets—is not only feasible but actually preferable to the ineffective, boring, risky, and, in most cases, outdated kind of politics practiced by the conventional oppositional movements in their countries." (Loc. 3397)
Am I the only one reminded of the Obama Fan Base and the 2008 presidential election campaign?
Now, what of the real Internet activism of the Anonymous kinds? The kind where cyber-guerilla attack government or corporate sites with DDoS as a means of dissent (something that some European courts have ruled to be a legitimate form of dissent)? Morozov argues for a more nuanced approach rather than the quick labeling of such actions as terrorism. After all, who would mind if an authoritarian regime were hit by such attacks? So, why is it any different when it's Lufthansa or Vodafone?
At the same time, the Web is far from being a utopia itself as it is home to anti-democratic groups and individuals. Free flow of information says nothing about the quality of information that circulates and it does not automatically equate greater demand for democracy, tolerance and equality. Far from it.
And of course, we conveniently forget that none of this entirely free:
"Just as today's Internet gurus are trying to convince us that the age of "free" is upon us, it almost certainly is not. All those free videos of cats that receive millions of hits on YouTube are stored on powerful server centers that cost millions of dollars to run, usually in electricity bills alone. Those hidden costs will sooner or later produce environmental problems that will make us painfully aware of how expensive such technologies really are. Back in 1990, who could have foreseen that Greenpeace would one day be issuing a lengthy report about the environmental consequences of cloud computing, with some scientists conducting multiyear studies about the impact of email spam on climate change? The fact that we cannot yet calculate all the costs of a given technology—whether financial, moral, or environmental ones—does not mean that it comes free." (Loc. 4738)
So, the bottom line, for Morozov is we have not really thought about the Internet yet, and we certainly have not paid enough attention to the social embeddedness of technology:
"Throughout history, new technologies have almost always empowered and disempowered particular political and social groups, sometimes simultaneously—a fact that is too easy to forget under the sway of technological determinism. Needless to say, such ethical amnesia is rarely in the interests of the disempowered." (Loc. 4814)
It indeed remains to be seen whether the Internet has affected the balance of power in various societies or if the digital divide has entrenched stratification systems. And any discussion that is imbued with technological determinism tends to de-socialize and de-politicize the impact of such technologies, something which, de facto, benefits current power holders.
As Morozov notes,
"Every new article or book about a Twitter Revolution is not a triumph of humanity; it is a triumph of Twitter's marketing department." (Loc. 5004)
And with that, the temptation is strong to re-formulate social problems as technological problems for which technological solutions (rather than public policy) are to be found. To discuss social issues in terms of technological fixes then evacuates social, economic and political factors that might lead to questioning the larger social structures.
So assuming that we could get rid of cyber-utopianism and Internet-centrism, what should we have in their place? Morozov offers a kind of cyber-realist manifesto:
"Instead of centralizing decision making about the Internet in the hands of a select few digerati who know the world of Web 2.0 start-ups but are completely lost in the world of Chinese or Iranian politics, cyber-realists would defy any such attempts at centralization, placing as much responsibility for Internet policy on the shoulders of those who are tasked with crafting and executing regional policy.

Instead of asking the highly general, abstract, and timeless question of "How do we think the Internet changes closed societies?" they would ask "How do we think the Internet is affecting our existing policies on country X?" Instead of operating in the realm of the utopian and the ahistorical, impervious to the ways in which developments in domestic and foreign policies intersect, cyber-realists would be constantly searching for highly sensitive points of interaction between the two. They would be able to articulate in concrete rather than abstract terms how specific domestic policies might impede objectives on the foreign policy front.

(…)

Cyber-realists wouldn't search for technological solutions to problems that are political in nature, and they wouldn't pretend that such solutions are even possible.

(…)

Cyber-realists wouldn't allow themselves to get dragged into the highly abstract and high-pitched debates about whether the Internet undermines or strengthens democracy. Instead, they would accept that the Internet is poised to produce different policy outcomes in different environments." (Loc. 5229 – 49)
As I said above, an important book.