First case, of course, is the so-called Ground Zero Mosque, which is neither a Mosque nor at Ground Zero (which isn't even Ground Zero) but the very formulation of if is in itself a reflection of prejudice. It's been discussed to death, so, I won't spend any more space on that.
Second case: The Sarkozy administration versus the Roms. In France, there is no more convenient and easy political strategy than bash some minority when the majority political party (especially on the right side of the political spectrum) finds itself in trouble in bad economic times (often due to their very policies, and sometimes to global conditions to which they contributed anyway). A few years back, the target was the suburban youth, especially those of North African origins, portrayed as savages, tormenting the good French working class in the housing projects. Bashing and scapegoating a minority, in that case, kills two birds with one stroke: minority bashing easily turns into votes for the right based on trumped up and exaggerated accusations of wrongdoings. But at the same time, it hides the deeper social issues that these governments do not want to touch: urban / suburban housing policies and how the suburban housing development model has not aged well and needs complete restructuring. In the case of the Roms, the deeper issue is that of the failures of many cities and towns to fulfill their legal obligations when it comes to the Rom population. So, bashing and excluding is easier and more fruitful politically:
"Today, as the French government pushed forward with its mission to rid the country of foreign Roma it deems to be living there illegally, Marseille's most marginalised community was in the grip of both fear and resignation: fear because the authorities have in recent weeks ratcheted up the pressure, and resignation because, after years of repeated expulsions and unrelenting social isolation, many of them have seen it all before.

"That's France for you," said one middle-aged woman, sitting dejectedly in pink flip-flops at the rue de Lyon squat. She, like all other Roma to whom the Guardian spoke, was unwilling to be identified. Intense media interest since the start of Nicolas Sarkozy's crackdown on crime and illegal immigration last month has made them uneasy in front of the cameras.

Known as the melting pot of the south, Marseille is home to a large proportion – possibly up to a fifth – of France's total Roma population, itself estimated at between 15,000 and 20,000. Despite its reputation for successful integration, however, the city's Roma, as in so much of Europe, live apart from mainstream society. Observers say routine expulsions and endemic discrimination have pushed them to the outer limits, both physically and psychologically.

But in recent weeks, ever since Sarkozy announced the imminent destruction of hundreds of squats and the return of Romanians and Bulgarian citizens living in France illegally, the situation has worsened. Police are making ever more regular visits. Across the country, dozens of illegal Roma camps have been broken up, and today, as part of the government's "voluntary" return programme, 1040 Roma flew home to Bucharest with €300 per adult and €100 per child in their pockets."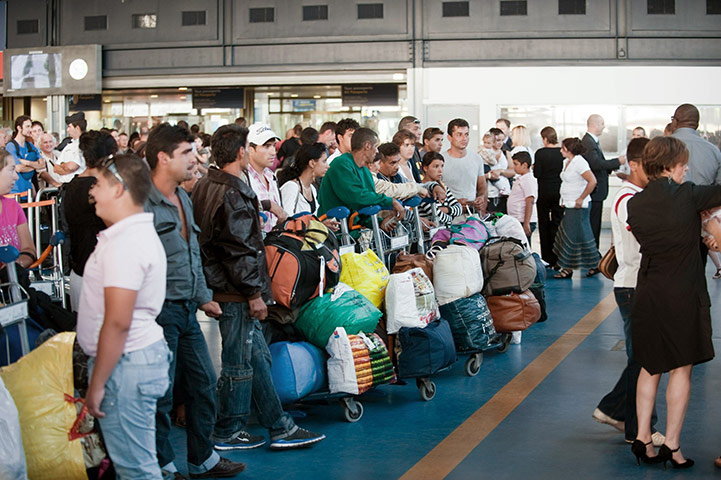 And then, of course, there is the case of Albinos in Eastern Africa that I have blogged about so much. It seems that, every once in a while, something more horrific comes up:
"A Kenyan man has been sentenced to a total of 17 years in prison for trying to sell an albino man to witchdoctors in Tanzania, local media reported yesterday.

A magistrate's court in northwest Tanzania sentenced 28-year old Nathan Mutei on Wednesday, after he pleaded guilty to charges of human trafficking and abduction with intention to sell an albino man, also Kenyan, for 400 million Tanzanian shillings (£169,000).

At least 53 albinos have been killed since 2007 in the east African nation and their body parts sold for use in witchcraft, especially in the remote northwest regions of Mwanza and Shinyanga, both gold-mining regions where superstition is rife.

Albino hunters kill their victims and use their blood and body parts for potions. Witchdoctors tell their clients that the body parts will bring them luck in love, life and business.

Albinos lack pigment in their skin, eyes and hair. There are around 170,000 albinos living in Tanzania.

"For the offence of human trafficking, you will go prison for nine years, or pay a fine of 80 million shillings. For the second offence, you will go to prison for eight years," Mwanza resident magistrate Angelous Rumisha was quoted as saying by the privately owned Mwananchi newspaper.

Mutei's sentences will run simultaneously for each count, meaning that he will spend only nine years in a Tanzanian prison after he failed to pay the fine.

Mwananchi reported that Mutei was arrested on 16 August.

A Tanzanian albino group applauded the court's judgment, but called for tougher punishment for offenders.

"We are happy with the quick conclusion of the trial, because these cases have been dragging on for too long," Zihada Ali Msembo, secretary general of the Tanzania Albino Society, told Reuters.

"However, we feel that nine years in jail is such a lenient sentence. This man should have been sentenced to life in prison because he knew very well that this poor albino he was trying to sell would have been butchered," he said.

Tanzania is due to hold presidential and parliamentary elections in October. The Tanzania Albino Society fears there could be a new wave of albino killings in east Africa's second largest economy ahead of the vote.

It is common for some politicians to visit witchdoctors during elections in belief that their powers will boost their chances of victory.

"There is talk around the country that the entire albino population could be wiped out by the time the general election is over. We don't know whether or not to believe these stories, but albinos are now certainly living in fear," Msembo said."
In all cases, there are political benefits to be reaped by ignoring the plight of minorities or even going after them directly or indirectly. And there is no doubt that bad economic times make a population more receptive to racist rhetoric and discriminatory state action, especially when political opposition is weak. And by definition, minorities cannot fight back either against discourse (lack of media access whereas members of the dominant groups have almost non-stop access to spill half-truths about minorities without any push-back from media figures) or actions (especially by the state).